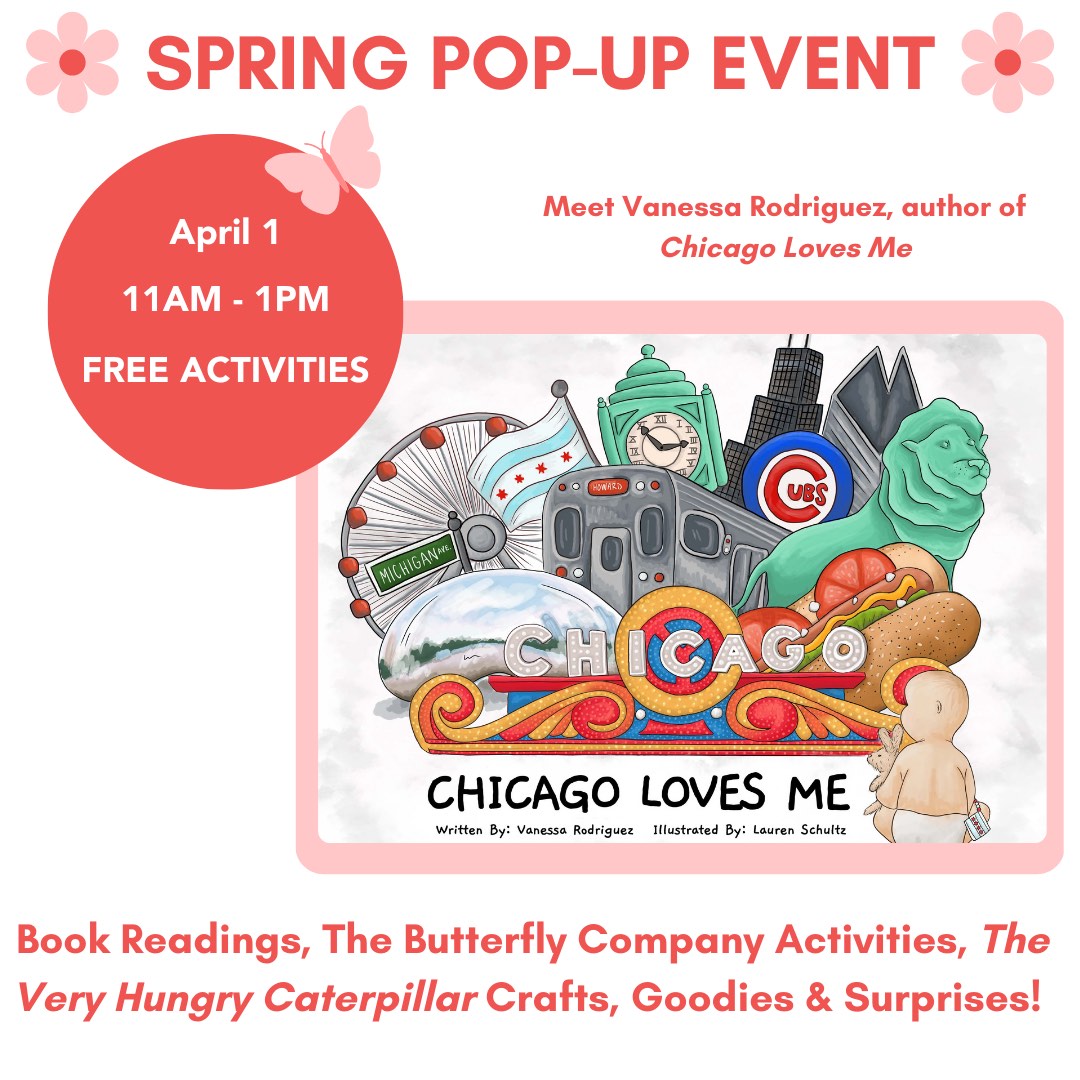 Spring Pop Up Event
Sat April 1 from 11am – 1pm
Free Activities 11am – 1pm
Special guest and local Latina author and business owner (Babydolls Boutique) 

Vanessa Rodriguez 

will host 2 book readings of her

beautifully written and expertly illustrated 

Chicago Love Me (first of the Loves Me Books series). Free craft activities and a presentation from The Butterfly Company included, plus extra surprises and treats! 
Learn More About The Event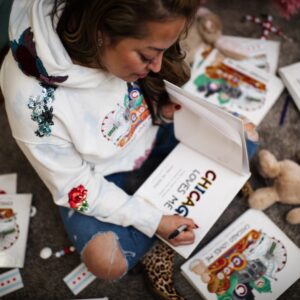 Vanessa Rodriguez is a Latinx raised in Chicago. Owner, designer, and innovator, Vanessa has dedicated her adult life to enchanting and delighting Chicago with her baby products and accessories for mommies at Baby Dolls Boutique, a one of-a-kind shop in Chicago's trendy Southport Corridor in Lakeview. With her high level of creativity and business acumen, Vanessa introduced her clothing line, pink & blue are the new black. Through the sales of this line, she established the "itty bitty Project", a heartfelt effort that supports micro-preemies while donating to the top five largest neonatal intensive care units in U.S. hospitals. And now her most recent accolade is in the pages of "Chicago Loves Me", a whimsical story filled with little surprises will make you fall in love with Chicago all over again.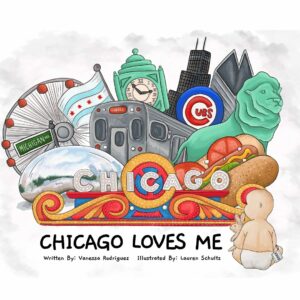 The first book in Loves Me Books series, Chicago Loves Me is a beautifully written and expertly illustrated  story of adventure!
When Mommy puts baby boy, Joey, to bed for the night the adventures with his bunny, Penelope, his  imaginary friend begins! Chicago Loves Me follows our baby boy protagonist in a magical dream series through  Chicago's historical sites. Join Joey through this fun-filled, aspiring journey as he discovers the wonders of our  Windy City's most notable attractions such as Wrigley Field, Lake Shore Drive, Shedd Aquarium and Soldier  Field.  
Chicago Loves Me taps into the innocence of children's imagination and creativity with a beautifully written  story from the perspective of a baby. Together with his mommy, best friend and colorful illustrations Joey  realizes why Chicago loves him. Every historical landmark that makes Chicago so special will be sure to  captivate the parents, grandparents, caretakers & everyone who decides to embark on this wonderful magical  trip through Chicago's most talk-about big city attractions. Parents and children will be transfixed by Joey's  exclamations of "oohs" and "aahs" all while learning some valuable historical lessons. Joey and his fearless  friend will guide you through his eyes the true beauty of Chicago and all it's delightful attributes.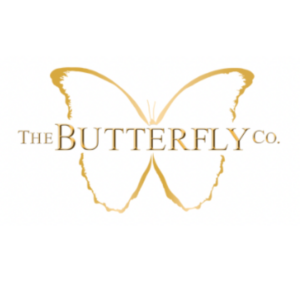 The Butterfly Company Unltd. (formerly Butterflies And Things) has a solid foundation serving customers since 1977. It was created to supply hobbyists and collectors, photographers, artisans, scientists, researchers, educational institutions and public butterfly houses with the most desirable insects from around the world.  Being a leader in the field is important to The Butterfly Company. From the beginning, we were and still are, committed to building quality long-term relationships with our clients. Even in today's economy, we continue to steadily grow and are proud to be the best online source for butterflies and insects in the USA! We believe that our success is the result of the care and dedication we put into helping our customers acquire the world's most amazing butterflies and insects for their collections and gift items that will last a lifetime.  Our goal… to stimulate your imagination and to arouse your curiosity about the fascinating world of butterflies and insects. We hope that you will start your own collection and continue to visit our website for years to come!