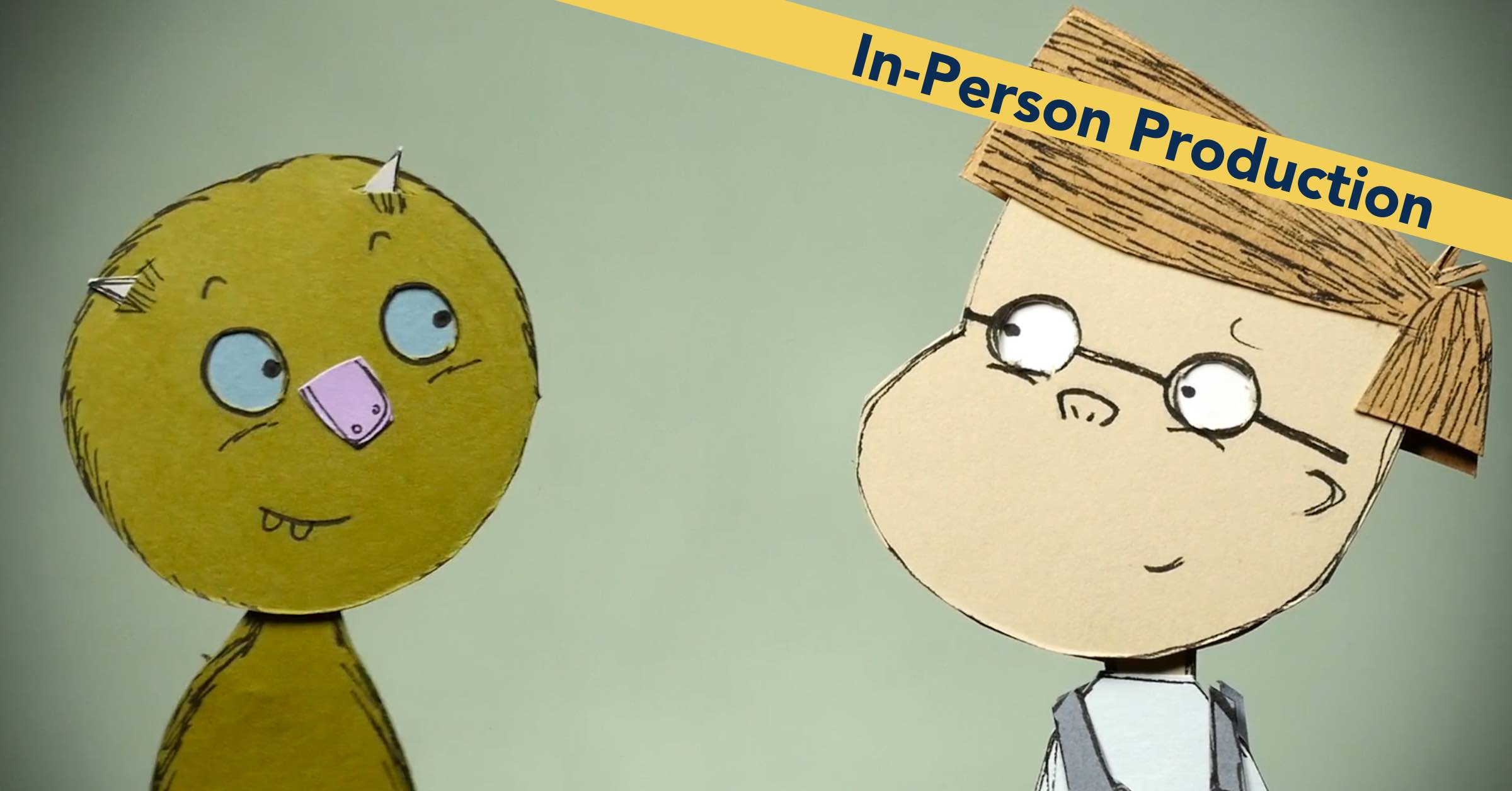 Leonardo! A Wonderful Show About A Terrible Monster
In-Person Production by Manual Cinema |
Recommended for ages 5 and up
Fall 2022
at Chicago Children's Theatre, 100 S. Racine
Public Performances |
Dates & Times TBA
School Shows |
Dates & Times TBA
Leonardo is a terrible monster. He tries so hard to be scary, but he just…isn't. Then Leonardo finds Sam, the most scaredy-cat kid in the world. Will Leonardo finally get his chance to scare the tuna salad out of an unsuspecting human? Or will it be the start of an unlikely friendship? They will need to make a big decision: will they be friends or will they be controlled by their fears?
Leonardo! A Wonderful Show About A Terrible Monster is adapted from the beloved children's books by Mo Willems, and realized through mind-bending projection, DIY cinema, music, and immersive sound by critically-acclaimed multimedia artists Manual Cinema.
Inspired by the Books Leonardo, The Terrible Monster & Sam, The Most Scaredy-Cat Kid in the Whole World by
Mo Willems
Dramaturgy by
Megan Alrutz
The Pigeon, Elephant Gerald, and Piggie characters © Mo Willems.
Used with permission.
Recommended for ages 5 and up.
There are some loud sounds, flashing lights, and furry monster puppets in this show!
Creative Team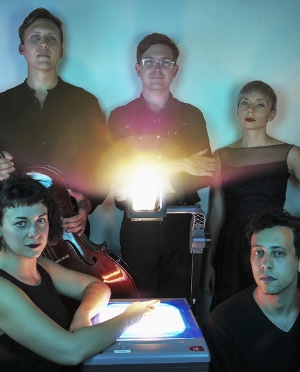 Manual Cinema
The Emmy Award winning Manual Cinema combines handmade shadow puppetry, cinematic techniques, and innovative sound and music to create immersive stories for stage and screen. Using vintage overhead projectors, multiple screens, puppets, actors, live feed cameras, multi-channel sound design, and a live music ensemble, Manual Cinema transforms the experience of attending the cinema and imbues it with liveness, ingenuity, and theatricality. The company was awarded an Emmy Award in 2017 for "The Forger," a video created for The New York Times and named Chicago Artists of the Year in 2018 by the Chicago Tribune. Their shadow puppet animations will be featured in the film remake of Candyman, directed by Nia DaCosta and produced by Jordan Peele's Monkeypaw Productions.
To date Manual Cinema has created nine feature length live multimedia theater shows; a live cinematic contemporary dance show created in collaboration with Hubbard Street Dance; an original site-specific installation for the MET Museum; an original adaptation of "Hansel & Gretel" created for the Belgian Royal Opera; music videos for Sony Masterworks, Gabriel Kahane, three time GRAMMY Award-winning eighth blackbird, NYTimes Best Selling author Reif Larson and Grammy Award winning Esperanza Spalding; a live non-fiction piece for Pop-Up Magazine; a self-produced short film; a museum exhibit created in collaboration with the Chicago History Museum; live cinematic puppet adaptations of StoryCorps stories and NPR's Invisibilia and four animated videos for the Poetry Foundation. Manual Cinema's Emmy Award-winning collaboration with The New York Times was nominated for a documentary short Peabody Award and won 2nd prize in the World Press Photo 2017 Digital Storytelling Contest, Long Form.
Manual Cinema has been presented by, worked in collaboration with, or brought its work to: The Metropolitan Museum of Art (NYC), The Tehran International Puppet Festival (Iran), La Monnaie-De Munt (Brussels), Brooklyn Academy of Music (NYC), Underbelly (UK), Adelaide Festival (AU), The Avignon Off Festival (France), The King Abdulaziz Center for World Culture (Saudi Arabia), Theatre World Festival Brno (Czechia), A Tarumba – Teatro de Marionetas (Portugal), The Chan Center for the Performing Arts (Bristish Columbia), The Kennedy Center (DC), The Kimmel Center (Philadelphia), the Museum of Contemporary Art Chicago, the Noorderzon Festival (Netherlands), The O, Miami Poetry Festival, Handmade Worlds Puppet Festival (Minneapolis), The Screenwriters' Colony in Nantucket, The Detroit Institute of Art, The Future of Storytelling Conference (NYC), the NYC Fringe Festival, Arts Emerson (Boston), Yale Repertory Theatre, The Poetry Foundation (Chicago), The Chicago International Puppet Festival, Pop-Up Magazine, The Chicago International Music and Movies Festival, The Puppeteers of America: Puppet Festival (R)evolution, The Public Theatre's Under the Radar Festival (NYC), and elsewhere around the world.
"Chicagoans of the Year: Directors of Manual Cinema have created a whole new art form" -Chris Jones, The Chicago Tribune
"this Chicago troupe is conjuring phantasms to die for…" -Ben Brantley, The New York Times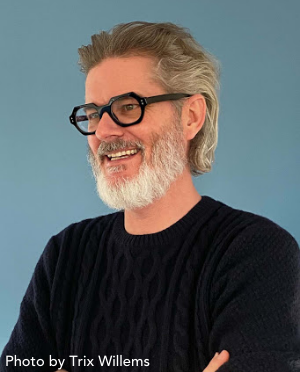 Mo Willems
Mo Willems is an author, illustrator, animator, playwright, and the inaugural Kennedy Center Education Artist-in-Residence, where he collaborates in creating fun new stuff involving classical music, opera, comedy concerts, dance, painting, and digital works with the National Symphony Orchestra, Ben Folds, Yo-Yo Ma, and others.
 Willems is best known for his #1 New York Times bestselling picture books, which have been awarded three Caldecott Honors (Don't Let the Pigeon Drive the Bus!, Knuffle Bunny, Knuffle Bunny Too), two Theodor Geisel Medals, and five Geisel Honors (The Elephant & Piggie series).  Mo's art has been exhibited around the world, including major solo retrospectives at the High Museum (Atlanta) and the New-York Historical Society (NYC). Over the last decade, Willems has become the most produced playwright of Theater for Young Audiences in America, having written or co-written four musicals based on his books.  He began his career as a writer and animator on PBS' Sesame Street, where he garnered six Emmy Awards (writing). Other television work includes two series on Cartoon Network: Sheep in the Big City (creator + head writer) and Codename: Kids Next Door (head writer). Mo is creating new TV projects for HBOMax, where his live action comedy special Don't Let the Pigeon Do Storytime! currently streams.
Behind the Scenes