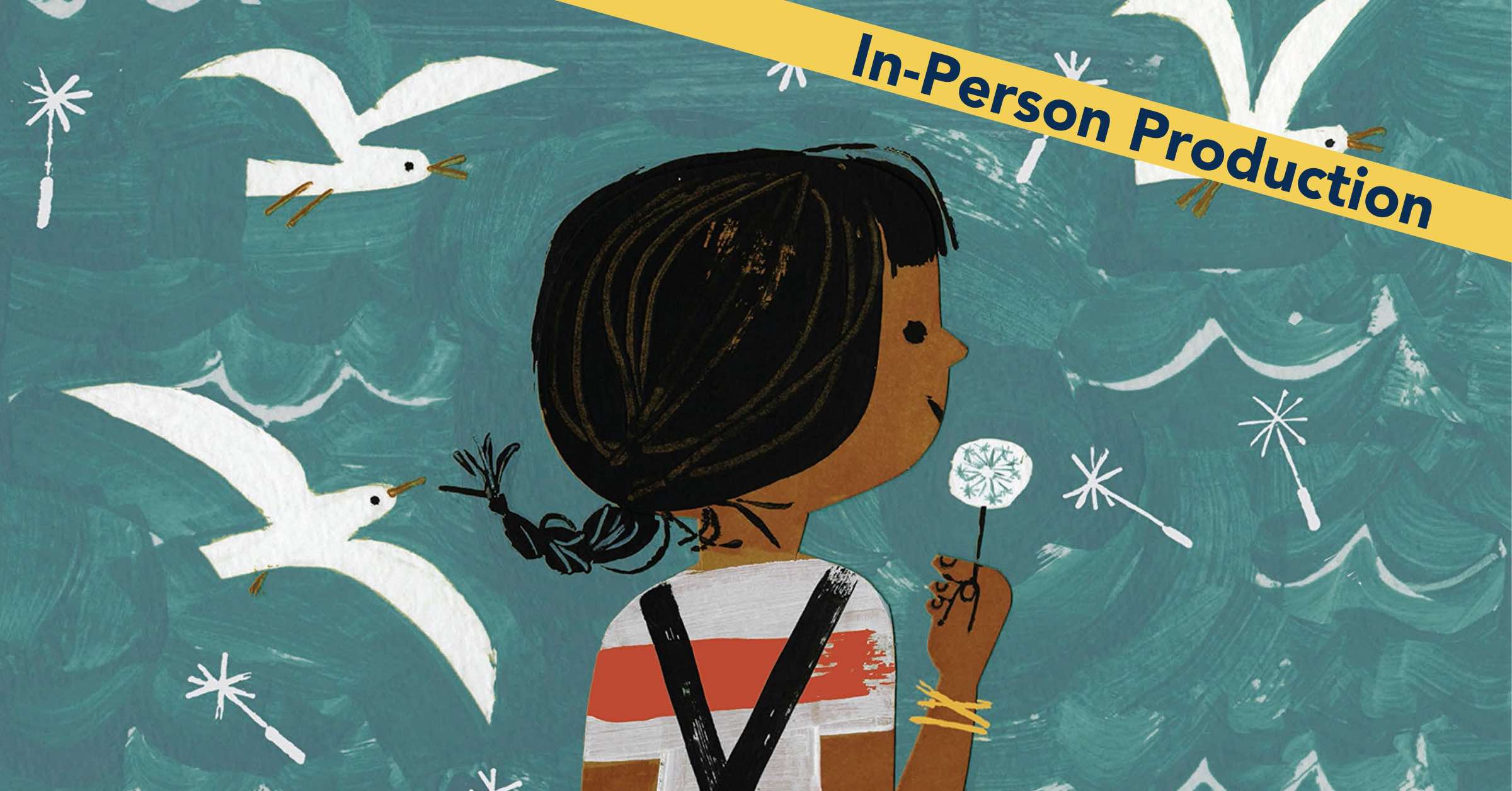 Carmela Full of Wishes
In-Person Production |
Recommended for All Ages – Especially Ages 5-10 (65 mins)
Runs April 23 – May 22 |
at Chicago Children's Theatre, 100 S. Racine
Public Performances |
Saturdays and Sundays at 10:30AM and 12:30PM
School Shows |
Tuesdays and Thursdays at 10:00AM | Wednesdays and Fridays at 10:00AM and 12:00PM
ACCESS Weekend |
Saturday, May 14 (10:30AM Sensory Friendly; 12:30PM Sensory Friendly and Open Captioned). Sunday May 15 (10:30AM ASL Interpreted; 12:30PM Open Captioned).
Runs

Apr 23

–

May 22, 2022
It's Carmela's birthday, and her wish has already come true–she's finally old enough to join her big brother as he does the family errands. On their way to the laundromat, past fields of what Mamí calls "flores de cempazuchitl," Carmela finds a lone dandelion growing in the pavement. But before she can blow its puffy white fluff away, her brother asks, "did you even make a wish?" If only she can think of just the right wish to make.
Full of touching and funny fantasies, the book, and now the play, portrays Carmela's migrant community as a vibrant place of possibility. Join families from all over the city for this moving ode to family, to dreamers, and to finding hope in the most unexpected places.
Carmela Full of Wishes is adapted by Alvaro Saar Rios, based on the book of the same title by Newbery Medal and Caldecott Honor-winning author Matt de la Peña and illustrator Christian Robinson. In 2019, CCT co-commissioned the world premiere of Matt and Christian's Last Stop on Market Street. We are thrilled to work with these incredible artists again. 
Carmela Full of Wishes is made possible in part by a grant from The Bayless Family Foundation and by a grant from National Endowment for the Arts' Grants for Arts Projects.
Photos by Joel Maisonet. Pictured: Maria Clara Ospina, Juan Gonzalez Machain and Jasmin Cardenas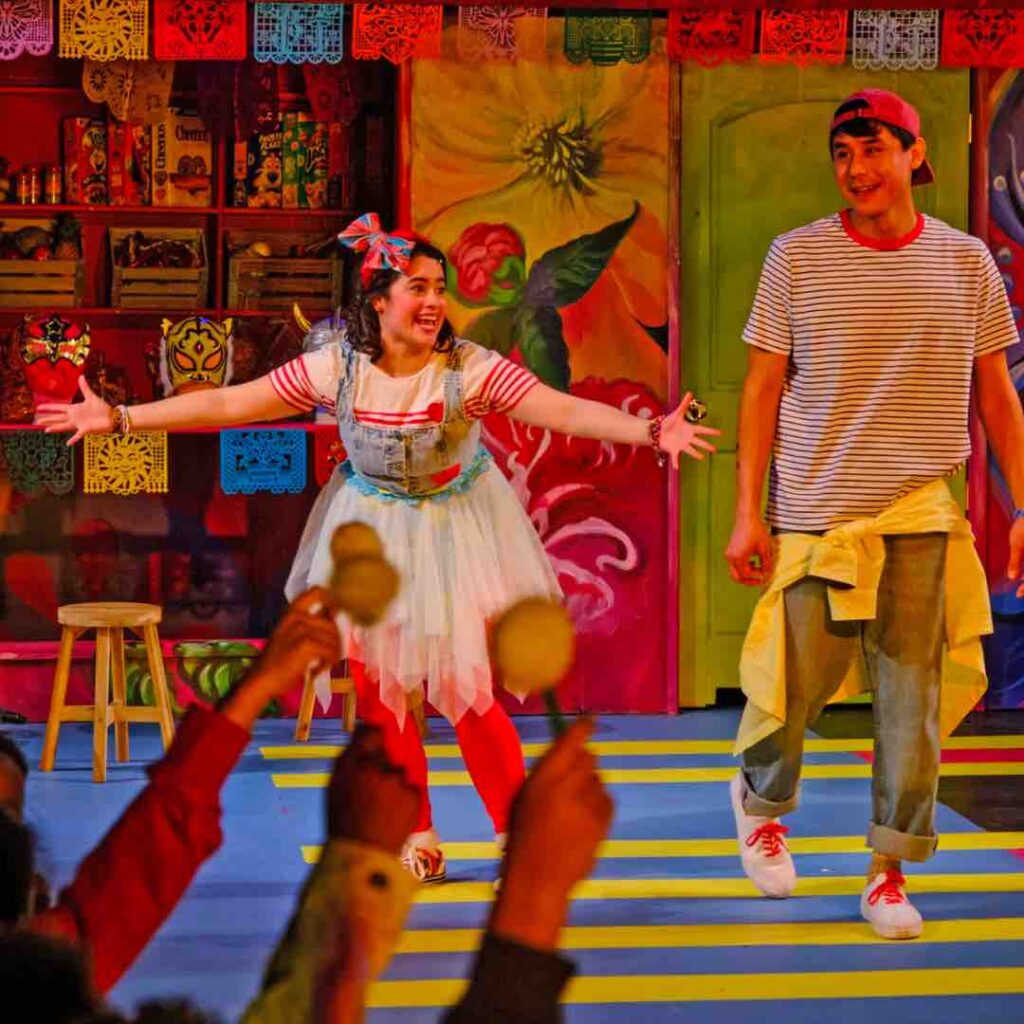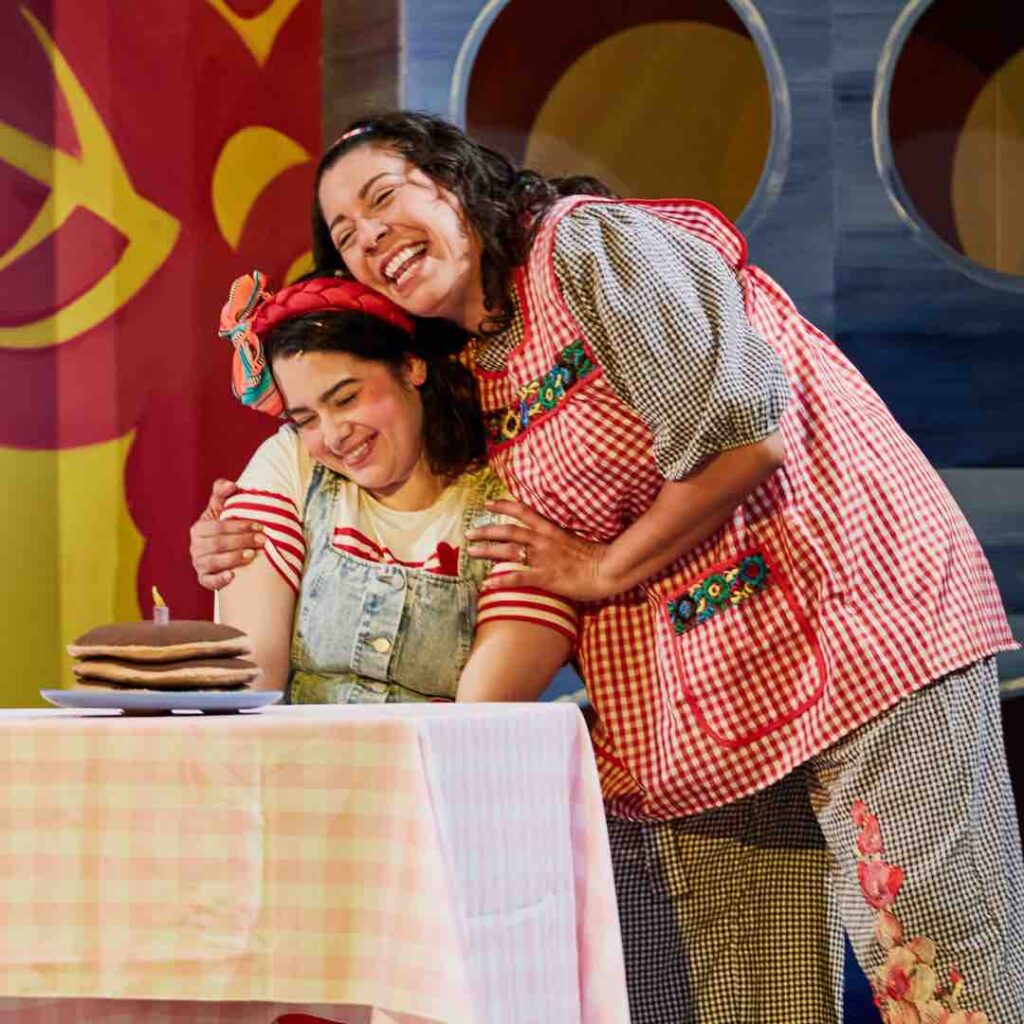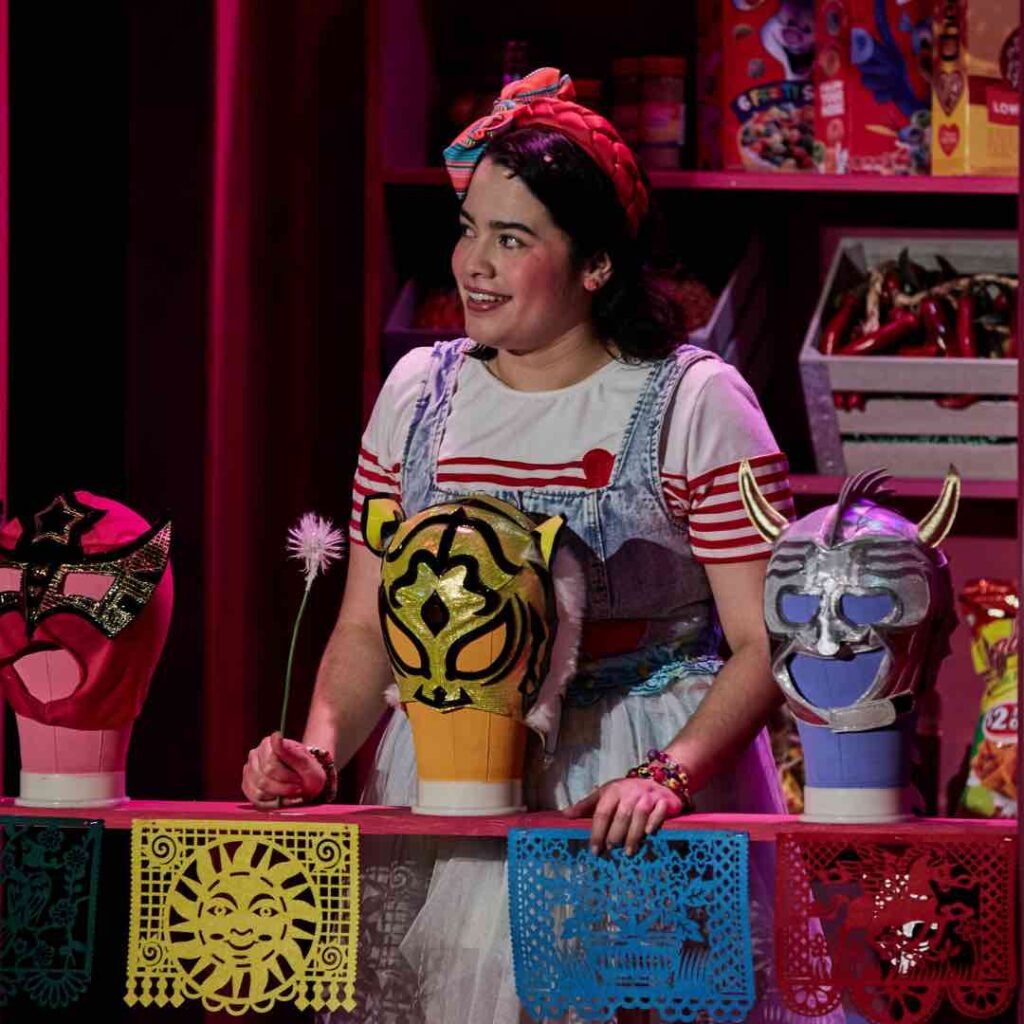 Adapted by
Alvaro Saar Rios
From the book by
Matt de la Peña
Illustrated by
Christian Robinson
Published by
G.P. Putnam's Sons Books for Young Readers
Co-commissioned by
Chicago Children's Theatre and The Rose Theater
Directed by
Michelle Lopez-Rios
Costume Design by
Jazmin Aurora Medina
Lighting designed by
Jason Lynch
Props Design by
Lonnae Hickman
Scenic Design by
Regina Garcia
Sound Design and Original Music by
Christie Chiles Twillie
Webpage header art
© 2018 by Christian Robinson
Creative Team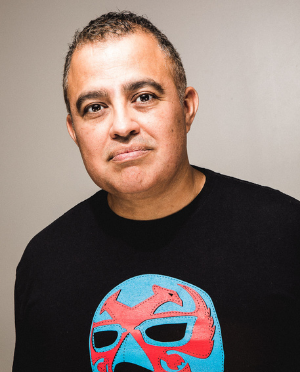 Alvaro Saar Rios
Alvaro Saar Rios is a Texican playwright living in Chicago. His plays have been performed in New York City, Mexico City, Hawaii, Chicago, St. Louis, Milwaukee and all over Texas. He has received playwriting commissions from various organizations, including Kennedy Center, Chicago Children's Theatre, First Stage, Houston Grand Opera, Honolulu Theatre for Youth, Michigan's Purple Rose Theatre Company, The Zoological Society of Milwaukee and Omaha's Rose Theater. His award-winning play Luchadora! is published by Dramatic Publishing Inc. Other plays include On The Wings of a Mariposa, The History of Mexicans in 10 Minutes, The Day the Music Came Back and Unmuted, a virtual musical he co-created with composer Deborah Wicks La Puma.  Alvaro is a Resident Playwright at Chicago Dramatists and Playwright-In-Residence at Milwaukee's First Stage.   A proud veteran of the US Army, Saar Rios used to drive M1A1 tanks.  Alvaro holds an MFA in Writing for the Stage and Screen from Northwestern University and teaches playwriting at the University of Wisconsin-Milwaukee.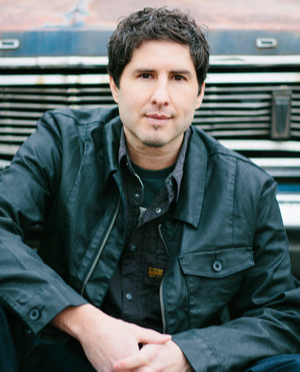 Matt de la Peña
Matt de la Peña is the New York Times Bestselling, Newbery Medal-winning author of seven young adult novels (including Mexican WhiteBoy, We Were Here, and Superman: Dawnbreaker) and six picture books (including Milo Imagines the World and Last Stop on Market Street). In 2016 he was awarded the NCTE Intellectual Freedom Award. Matt received his MFA in creative writing from San Diego State University and his BA from the University of the Pacific where he attended school on a full basketball scholarship. In 2019 Matt was given an honorary doctorate from UOP. de la Peña currently lives in Southern California. He teaches creative writing and visits schools and colleges throughout the country.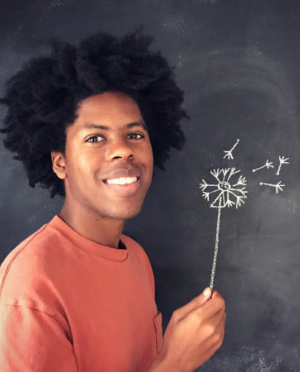 Christian Robinson
Christian Robinson was born in Hollywood, California. He grew up in a small one-bedroom apartment with his brother, two cousins, aunt, and grandmother. Drawing became a way to make space for himself and to create the kind of world he wanted to see. He studied animation at the California Institute of the Arts and would later work with the Sesame Workshop and Pixar Animation Studios before becoming an illustrator of books for children. His books include Gaston and Antoinette, written by Kelly DiPucchio, and the #1 New York Times bestseller Last Stop on Market Street, written by Matt de la Peña, which was awarded a Caldecott Honor, a Coretta Scott King Illustrator Honor, and the Newbery Medal. He presently lives in northern California with his rescue greyhound Baldwin and several houseplants. He looks forward to one day seeing the aurora borealis. Visit him online at TheArtofFun.com.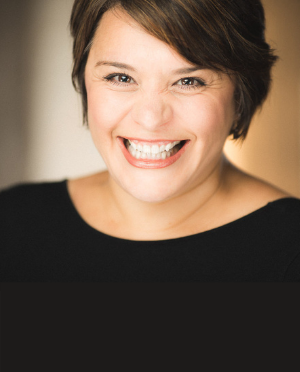 Michelle Lopez-Rios
Michelle Lopez-Rios is delighted to collaborate with Chicago Children's Theatre on this beautiful story. She is a teatrista, teacher and activist. Together with Alvaro Saar Rios, she co-founded the Royal Mexican Players in 2004 and the two have continued to collaborate on workshops and productions since then. She is an Associate Professor and Artistic Director of Chicago Playworks at The Theatre School at DePaul (TTS). Directing credits include Luchadora! & Jane of the Jungle (TTS); The Mole Hill Stories (First Stage); Bocón! (University of Houston); Chapatti (Milwaukee Chamber Theatre); Enfrascada (Renaissance Theaterworks) and A Trip Through the Mind of a Crazy Mexican (Royal Mexican Players). Michelle will direct Squirrel Girl Goes to College this season at TTS.