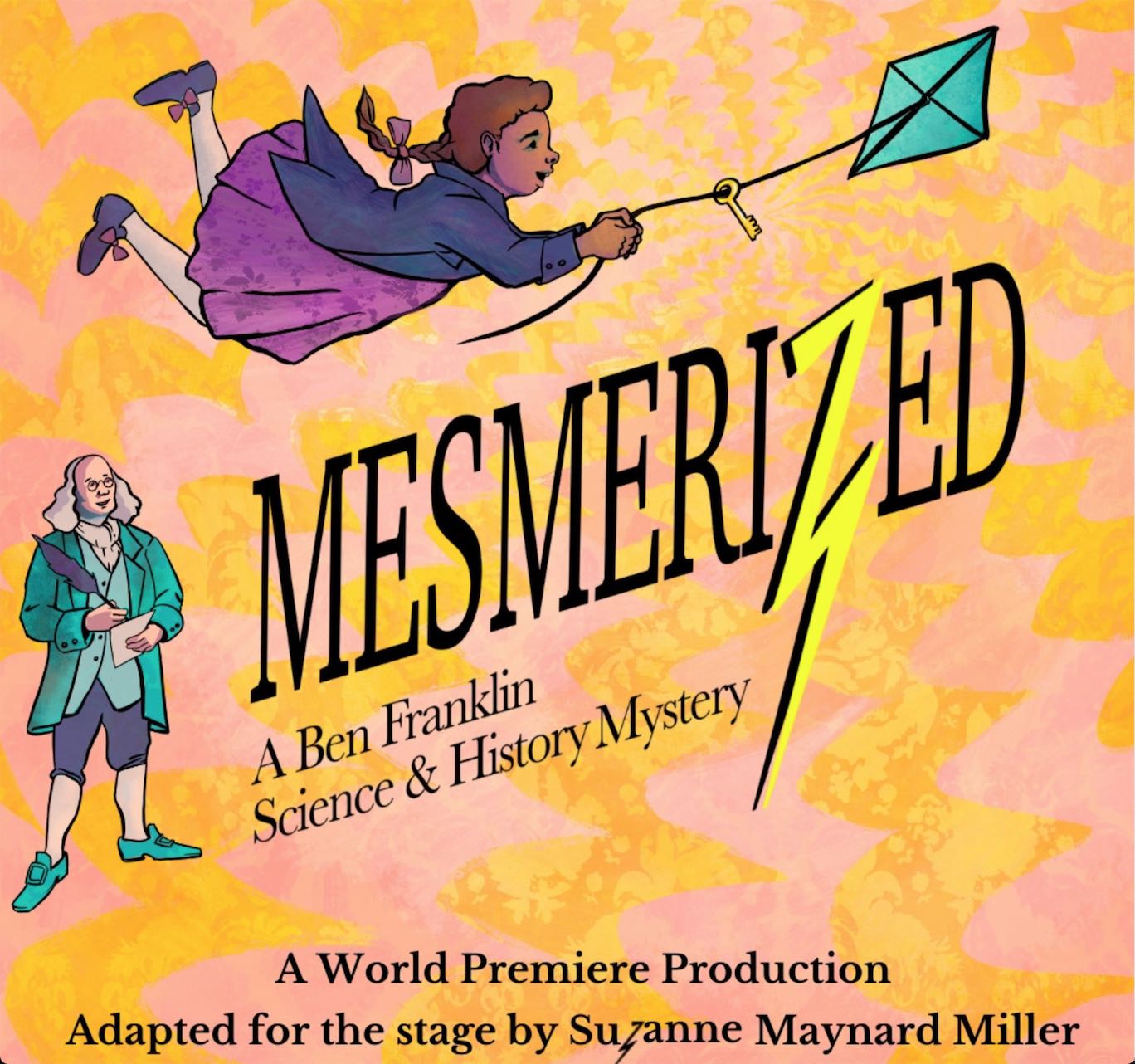 Mesmerized: A Ben Franklin Science & History Mystery
In-Person Production |
* Ideal for Ages 7 & Up
Runs September 23 – October 22 |
at Chicago Children's Theatre, 100 S. Racine
Public Performances |
Saturdays and Sundays at 9:30AM and 11:30AM
School Shows |
Wednesdays, Thursdays, and Fridays 10AM & 12PM
ACCESS Weekend |
Sat, October 7 (9:30am: Sensory Friendly & Masks Required, 11:30am: ASL & Open Captions) & Sun, October 8 (9:30am: Sensory Friendly)
Run Time |
60 Minutes (Subject to Change)
Runs

Sep 23

–

Oct 22, 2023
Through fabulous storytelling and fast-paced comedy, Ben Franklin and his want-to-be-inventor niece, Sarah, travel to France where they use the Scientific Method to test a mystical man's magical cure-all in MESMERIZED: A BEN FRANKLIN SCIENCE & HISTORY MYSTERY. Kids will laugh as they engage their minds to solve this mystery, fueled with stories about Ben Franklin's many scientific discoveries and electrifying inventions.
Themes Explored: S.T.E.M., Women in Science, The Scientific Method, Ben Franklin
Subscribe Today and Save More!
View The Trailer
Adapted for the stage by
Suzanne Maynard Miller
Based on the book "Mesmerized: How Ben Franklin Solved a Mystery that Baffled All of France" by
Mara Rockcliff
Directed by
Tommy Rapley**
Scenic Design by
Collette Pollard***
Props Design by
Bren Coombs
Costume Design by
Mieka van der Ploeg***
Wig Design/Associate Costume Design by
Megan E. Pirtle
Sound Design & Original Music by
Matthew Muñiz
Marie Antoinette/Ensemble
China Brickey****
Charles/Ensemble
Kasey Foster****
Ben Franklin
Shawn Pfautsch****
King/Ensemble/Ben Cover
Dustin Valenta
Charles/Second King Understudy
Johnny Arena
Mesmer/King Understudy
Jordan Tannous
Sarah/Queen Understudy
Kandace Mack
Production Stage Manager
Anastar Alvarez****
Assistant Stage Manager
Shannon Golden-Starr****
Assistant Stage Manager
Zachary Crewse
Director of Production
Will Bishop
Associate Scenic Designer
Lauren M. Nichols
Scenic Supervisor
Chas Mathieu
Scenic Construction
Lookingglass Theatre Set Shop
Costume Supervisor
Janelle Manno
Wardrobe Supervisor
Laura Holt
Stitchers
Ashley Berg Pagano, Riley Sullivan, Mia Thomas
Costume Crafts
Melissa Bochat
Wig Knotters
Finnegan Chu, Jennifer Lightfoot, Dylan Rodriguez
Assistant Lighting Design
Nick Chamernik
Lighting Supervisor
Hannah Wien
Assistant Lighting Supervisor
Dare Wedgeworth
Sound Supervisor
Matt Reich
Assistant Sound Supervisor
Spencer Meeks
Sound Operator Cover
Abbey Nettleton
**
Denotes member of Stage Directors and Choreographers Society
***
Denotes member of United Scenic Artists, Local USA 829 of the IATSE
****
Denotes member of Actors' Equity – Professional Union for Actors and Stage Managers
PLEASE NOTE: The Saturday, October 7th performance at 9:30am of "Mesmerized: A Ben Franklin Science & History Mystery" will be a Masks Required In The Theatre performance to accommodate immunocompromised patrons. Masks will be provided by CCT for any patron attending.
Note on Lap Seat Tickets
-Lap seat tickets for children 18 months and under are available for $12.25 per show
-Lap seat tickets must be reserved by calling Guest Services ahead of time at (312) 374-8835, or can be purchased at the box office the day of show.
* This production is suitable for all ages – toddlers, children, and teens, but best suited for the recommendation above. However, you know your kids best! We trust your discretion while attending Chicago Children's Theatre shows.
Free Lobby Activity
Our interactive lobby will stimulate imagination and feed curiosity when your family attends a performance of MESMERIZED: A BEN FRANKLIN SCIENCE & HISTORY MYSTERY. Join MAD SCIENCE at CCT for a free optical illusions booth experience. Audience members of all ages will have fun learning about reflection, diffraction, and other ways of tricking the brain. It's sure to be an electrifyingly good time ⚡️